Skip Navigation
Website Accessibility
Buy online, pick up in-store!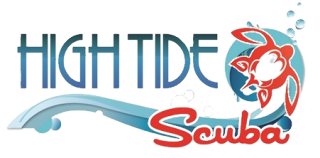 1315 HWY 1187 Suite 101 Mansfield, TX 76063 |
(817) 483-0376
| Mon - Fri: 10a-5:30p, Sat 11a-4p
The High Tide Scuba Difference:

Absolutely No Gear To Purchase To Complete Your Beginner Training
Try A Variety Of Equipment During The Course
All Scuba Gear Is Transported By High Tide Scuba - Less Work For You
Fresh, Full Cylinders Of Air Provided Before Every Dive
All-Inclusive Price - Truly No Hidden Fees
Boy Scouts of America Merit Badge Counselor


At High Tide Scuba, our main focus is on Scuba instruction and giving our students the most enjoyable dive training experience possible. We offer Scuba courses year-round throughout the Dallas, Fort Worth, Arlington, Burleson, and Mansfield areas. Whether you are ready to get your Open Water Diver certification or become a dive professional, we are ready to teach you. By the end of your course, you will have the confidence to perform the skills you learned safely and comfortably – and you will have a great time learning it all too!

We offer a wide range of SSI and PADI Scuba courses from beginner to advanced, as well as many specialty courses to suit your diving interests. We offer extremely flexible class schedules, small class sizes, and all-inclusive pricing. We also offer private and semi-private courses for less than many other shops charge for large group classes.

Not sure if Scuba is right for you, then try our SSI Try Scuba and PADI Discover Scuba class. The class only takes about two hours and is conducted monthly. Check out our calendar for upcoming class dates.

Although we take great pride in our dive training, we are not just a dive training shop! We have an extensive service department. Our trained technicians can perform visual and hydrostatic tank testing, regulator and BC service and repairs, and more!

Here at High Tide Scuba, we carry a large variety of scuba gear in our retail shop, including cameras and accessories. We believe an educated diver will make the best decision on what gear works best for their needs, therefore, we never require a student to purchase gear before taking our beginner courses. We invite everyone to visit our shop. You can have confidence in knowing you will be making a wise investment for your diving adventures.

Interested in Rebreathers? High Tide Scuba is setting the standard for Rebreather diving and training in North Texas. We have a comprehensive training program for the Mares Horizon SCR, as well as trained sales and service technicians to meet your CCR and SCR needs. Only High Tide Scuba offers divers in Texas this level of training, equipment access, and quality of instruction.

At High Tide Scuba, our training philosophy is very different from your local dive shop. Our business concept is based on two premises, flexibility, and mobility. We teach many group classes at our permanent classroom location in Mansfield, TX. We also have a fully equipped mobile training trailer, and we can bring the training to you anywhere in the Metro area. Our outdoor pool is located in Mansfield and our indoor pool is located in Fort Worth. We pride ourselves on making our class schedules flexible for our private, semi-private, and family classes. Please feel free to call or email us with your questions. We look forward to getting you started on your scuba adventure.